I know I am far from the first person to post about this game but its been nagging at the back of my mind and I feel I need to say something.  First I feel like this game is targetted almost exactly at me.  I've played quite a few online games, especially of the type with the limited turn set (Kingdom of Loathing, Secret Society Wars, Forumwarz, Dead Awaken, Twilight Heroes and even *gasp* Neopets) and I've played some Zork though nowhere near enough to consider myself a die hard fan.  So needless to say the idea of a game that is some hybrid of Zork and KoL is certainly appealing to me.  This is not that game.  There are so many holes in this I'm probably gonan need more than one post to cover them all but I want to talk about a few really glaring ones.
First, they released this on April 1st.  Someone who is in some way in charge of this game chose April Fool's Day to release it.  They release an internet game, on April 1st in complete and total seriousness.  Clearly, these people do not understand anything about the internet.  It is quite possibly the single worst day to release an internet game.  In fact if the only two options were to release the game on April 1st or September 11th I'd probably pick September 11th and hope that with the game's complete lack of towers or planes it wouldn't be that big a deal.  So keep in mind that this game is in some way being overseen by someone who thought April 1st was the right time to release this game instead of waiting another 24 hours or ideally until there was actual content in it.
A lot of people have talked about the combat system and why its awful and very Progress Questy.  Well it is all that, here's a very basic screen shot to show how it works if you somehow made it to my blog before every other one on the internet.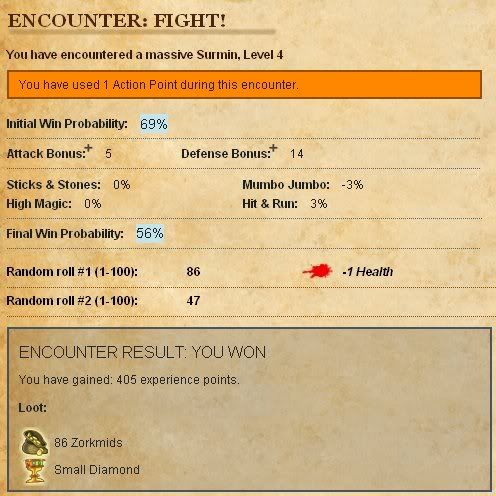 First my character I was fighting with was level 4 and has a max of 7 HP.  As you can see I had a "Initial Win Probability" of 69%.  I have no idea where this number comes from but I'm guessing some kind of general "oh hey you are equal level" thing.  And if they were trying to make combat sound as empty and unfun as possible they hit it on the head with that phrase.  I've played actual games of D+D in actual basement where we would be ashamed to utter that phrase.  Then it is adjusted down to 56% by taking into account my gear and the "stances" we are both fighting in.  Somehow the -3% from Mumbo Jumbo and the 3% from Hit & Run added to my attack and defense bonuses equate to -13%.  I'm sure I'm missing something but I frankly have no idea what and with all these damn numbers on the page you would think they could be more specific.  I mean personally I'm totally fine in an RPG fighting a monster and not knowing explicitly right off the bat if its tougher than me or not.  I take a few swings of my sword and miss completely and consider my options.  So if you're gonna tell me exactly what I'm up against and how likely I am to win please go the whole nine and tell me why.  Note also that the "Surmin" seems to only have 1 HP.  So far all the monsters I have fought have 1 HP but that could just be the mind-numbingly slow pace I am levelling up at.  Now combat is pretty clear, once it determines the odds of my winning it rolls.  And well thats it.  It rolls.  I don't choose an attack knowing now that mumbo jumbo is less effective.  I don't decide if fighting a creature when I have an X% chance to win is too dangerous and I should flee.  I just attack it until one of us is dead.  And by dead I mean it since I can't die in this game but we'll get to that in a second.  First notice what happens when he hits me.  A clever little swipe of blood pops up proclaiming I have lost 1 health.  Then when I hit him, well nothing.  There is literally nothing at all saying I have done good.  I can only surmise that I in fact did since the roll came out in my favor and well the guy died.  In longer combats like in the arena (since other players have more than 1 HP at least) its a string of me hitting and me getting hit with nothing displayed next to my successes.  I don't exactly need a gold star every time I hit a monster in a video game but something is nice.  I mean even a simple "you do 1 damage" would be a significant improvement over what is there now.  I mean for all I know my attacks are literally dealing 300 damage to these creatures and demolishing their miniscule 12 HP or as I suspect I am simply doing a single damage to incredibly weak creatures over and over again.
Now (and this has also been beat to death already) look at the loot.  86 Zorkmids and a Small Diamond.  Zorkmids are, well whatever.  I'm used to every RPG naming gold something different and Zorkmids while lacking the flair of say meat are certainly sufficient for this purpose.  The Small Diamond on the other hand should be exciting.  I mean its a diamond right?  Well, no not really.  Its sporting the same treasure image as half of the other treasure (this is "big" treasure I'm pretty sure) and has no description or real use.  It doesn't show up in my inventory and really the only thing currently indicating I am even carrying it is a slightly larger encumberance number.  When I return to my base it and any other items I had already looted are automatically sold for more Zorkmids, and not even a lot of them.  That diamond and a Copper bracelet I also found sold for 22 Zorkmids.  For some reason the monsters are carrying around an awful lot of liquid funds compared to their value in goods.  Seriously, I want a freaking diamond to be a good find.  I want it to sell for at least as much as the other money I found on the guy.  Sadly all the items I have found so far are actually just more Zorkmids.  And I mean I'd be ok with that if they had clever names or high values or really anything at all to make me care that it dropped.  Or maybe they could drop something I would actually use.  All the weapons, armor and spells I can possibly use for what seems like ages (there are 16 pages of weapons at the first base 5 per page up to and including a weapon that costs 1605500zm) are just in the base in a store.  Why can't the monsters happen to be carrying these?  Nope, gotta be all worthless treasure.
In the game you get 30 AP (Action Points) per day unless you pay for more.  There is so far no way to increase this other than donating.  Moving to a new area costs 1 AP and moving back to your base costs another 1 AP.  The only way to regain HP is to go to your base.  The only way to bank money and autosell your "treasure" is to go to your base.  The only way to assign that new skill point you earned by levelling up is to go to your base.  The only way to buy new weapons/armor/magic now that you finally have enough money is to go to your base.  Are you seeing a pattern here?  While I will readily admit that it makes sense from a narrative perspective that you would do any of those at a base, it makes for an incredible break in the adventuring and its a pretty large waste of turns.  Also it leads to what I personally consider to be the most offensive of the donation only items.

6 coconuts is $2 at the best exchange rate (60 of em for $20) so sure its not a lot to ask but I mean really?  In order to remove one of the lamest and annoying parts of your game I have to donate.  In order to get something that I personally feel like should be baseline functionality requires a purchase.  It feels like they built in something that they *knew* would be infuriating with the explicit purpose of you being able to pay to make it go away.  I'm fine with donating money to games to improve my play experience but this just bothers me.
Now to the thing that really gets under my skin about the combat system.  When you lose all your HP instead of getting beaten up you distract the monster with all your loot so that you can flee to your base.  This encourages you to rush back to the base often (at the cost of 2 AP) so you can guarantee you get to keep all that loot you have.  Now obviously you don't want to go back too often (or each fight would essentially cost 3 AP) but you don't want to go too long and risk it.  Now the situation I am outright dreading is this.  I've been safely adventuring in an area for a little while, say 10 turns.  Everything is a level below me and I'm ok geared so I'm having a 75% chance to win every fight.  A few lucky rolls means I haven't even taken a bit of damage yet so I'm still at my full 7 HP.  I've got a good stack of loot but I'm not worried about losing it being at full health and all.  The very next fight I enter I take all 7 of my HP in damage and lose, losing it all.  The odds of this happening are low, very low in fact (.006%) but the fact remains it is not impossible.  Sure its incredibly unlikely but I mean their goal is to have 1000s of people playing it.  So statistically once every couple of days someone who should have been completely safe is going to get absolutely wrecked by a string of bad rolls.  I've been screwed by my share of RNGs in my time and it always sucks.  But the potential suckage here is higher than I have seen anywhere else.  And its not backed by any interesting mechanic or anything, no heroic sewer rats having their day and epicly smashing the adventurer 100 times their size, just cold impersonal dice being rolled for you and deciding your fate.  Every time I click the adventure again button and I'm at somewhere around half health I hesitate a little as the dice roll out, second guessing myself.  It just takes so much of the combat out of my hands and throws them to the whims of fate.  I'm not sure how anyone thought this combat system was a good idea.  I mean if they really insist on rows of dice rolling you can't control in the slightest once the combat has started you could at least improve it.  Set the baseline win value (69% from my example above) and then instead of modifying that down or up, calculate a modifier to the rolls.  That way each roll is being acted upon by your character, your stats etc.  Plus a really good modifier shrinks the range in which you can fail.  With this new system here is how that combat would have played out.
Initial Win Probability: 69%
some mumbo jumbo about mumbo jumbo
Roll Modifier: + 13

Roll 1: 86 (+13) : 99   *slash* -1 Health
Roll 2: 47 (+13) : 60   *pow*  you deal 1 damage!
You win!
I mean ideally we could *cast* some of the spells we're spending our Zorkmids on.  Or in any way actually interact with the combats but this automated combat (to me at least) feels like I had more of an impact on it.  Maybe I'm splitting hairs but there is so clearly room for improvement here.
I'm not at all sure what it is but there is still something drawing me to this game.  I suspect its like watching a car accident but really I think I'm just in awe of how much better this game should and could be than it is.  I'm also still vaguely hopeful that it will get better once I get into it deeper but with every new day of play time I doubt that more and more.  If I remember to post again I'm gonna discuss the skill system a bit and questing and exploring and puzzle solving.